Sonja creates vessels,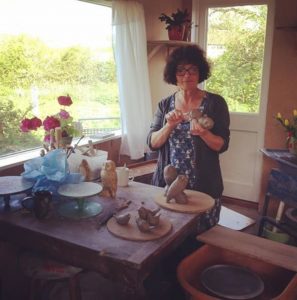 birds, pendants and plaques using porcelain or stoneware clays. They are decorated by pouring or painting on to the surface with coloured slips, glazes or oxides.
Her vases and bowls and are thrown or coil-built and are painted, incised or sprigged. The birds, pendants and wall plaques are hand modelled, each piece being individually made, and then fired in an electric kiln. They are inspired by and drawn from the landscape, plants, trees, animals, birds and insects. Sonja's workshop is on a farm, the surrounding natural landscape being of special interest. She is aware and concerned about the disappearing landscape and climate change.
Childhood memories and narratives are captured in her ceramic art as well as incidents from recent travels.
Her work can be seen in The Made in Bradford shop in Bradford on Avon and The Shop at Trowbridge Town Hall Arts.
"I love ancient and modern Chinese, Japanese and Korean ceramics and the work of Lucie Rie, Picasso's ceramics and modern British sculptors and Land artists such as Henry Moore and Andy Goldsworthy. I like the thought of people using my pieces, for example placing flowers in a vase or eating from a bowl."
After completing a BA in ceramics, Sonja continued making and exhibiting her work as well as teaching in the community, building many years' experience. Her interest in Art Therapy led her to studying the subject and gaining practical skills at MA level. She currently works in a school giving Art Expression sessions to young people and teaching mosaic techniques and ceramics to adults, children, including those with special needs.
TRAINING/EDUCATION/QUALIFICATIONS
Hertfordshire University, Hatfield. Mature student, Art Therapy MA course Postgraduate Diploma  2008-2012
City of Bath College. Foundation in Art Therapy  1999
Trowbridge Technical College. Basic Counseling Skills 1 and 2  1989-1990
Cyncoed College, Cardiff. Postgraduate Art Teacher's Certificate  1981-1982
Cardiff College of Art, Cardiff. BA Hons Ceramics  1976-1979
TEACHING EXPERIENCE
Experienced Pottery teacher who enjoys working with people of all ages and abilities
Llanover Hall  Arts Centre, Cardiff. Pottery Tutor and Technician. Taught Pottery on Summer and Easter courses. Helped run Raku workshops  1981-84
National Children's Home, Penarth, Cardiff. Teaching assistant, taking small groups for Pottery  1985-86
Cardiff City Farm, Cardiff, Pottery teacher/technician. Organised and taught Pottery classes for children, adults and those with special needs. Exhibited own Ceramic work  1988-91
Red Gables, Trowbridge, Wiltshire, NHS adult mental health centre. Pottery teacher  1995-2010
Family Action Mill Race centre, Calne, Wiltshire. Teaching Pottery/Craftwork to adults with learning disabilities  1997-2004
Workers Educational Association. Pottery teacher for adult evening classes, Bradford on Avon, Wiltshire  2005-2008
Art therapy placement, Art Expression sessions, St Laurence school, Bradford on Avon, Wiltshire 2010-2012
Art therapy Assistant, group and individual sessions of Art, St Laurence school, Bradford on Avon, Wiltshire  2012-present
Silk Mill, Frome, Somerset, teaching Pottery workshop  2014
Stowford Manor Farm, Wingfield, Nr Trowbridge, Wiltshire, teaching Pottery workshop  2015
Various workshops, play schemes and after school clubs, Pottery/Art teacher